Conan The Barbarian – hudba
Asi každý si pamatuje nádhernou orchestriální hudbu, která byla zakomponována do příběhu barbara Conana v původním filmu Barbar Conan 1982. Hudbu složil známý skladatel – Basila Poledourise. K dispozici je na CD v několika edicích, speciálních nahrávkách a také například v roce 2010 vyšel kompletní re-recording pod taktovkou Nica Raineho.
Basil Poledouris složil také soundtrack k pokračování barbara Conana s názvem Conan Ničitel nebo v aj – Conan The Destroyer. Bohužel skladatel Poledouris zemřel v roce 2006 ve svých 61 letech.
Jedno z vydaných CD – Conan The Barbarian má tento obsah:
Seznam skladeb s možností ukázky:
| | | | | |
| --- | --- | --- | --- | --- |
| No. | NÁZEV SKLADBY | SKLADATEL, INTERPRET | MP3 | DÉLKA |
| 1. | Prologue / Anvil Of Crom | Basil Poledouris | mp3 | 03:40 |
| 2. | Riddle Of Stee l / Riders Of Doom | Basil Poledouris | mp3 | 05:40 |
| 3. | The Gift of Fury | Basil Poledouris | mp3 | 03:51 |
| 4. | Column Of Sadness / Wheel Of Pain | Basil Poledouris | mp3 | 04:10 |
| 5. | Atlantean Sword | Basil Poledouris | mp3 | 03:52 |
| 6. | Theology / Civilization | Basil Poledouris | mp3 | 03:15 |
| 7. | Love Theme | Basil Poledouris | mp3 | 02:11 |
| 8. | The Search | Basil Poledouris | mp3 | 03:10 |
| 9. | The Orgy | Basil Poledouris | mp3 | 04:16 |
| 10. | The Funeral Pyre | Basil Poledouris | mp3 | 04:30 |
| 11. | Battle of the Mounds Pt.1 | Basil Poledouris | mp3 | 04:55 |
| 12. | Orphans Of Doom / The Awakening | Basil Poledouris | mp3 | 05:32 |
Na dalším CD s délkou již přes hodinu toho můžete najít ještě více viz: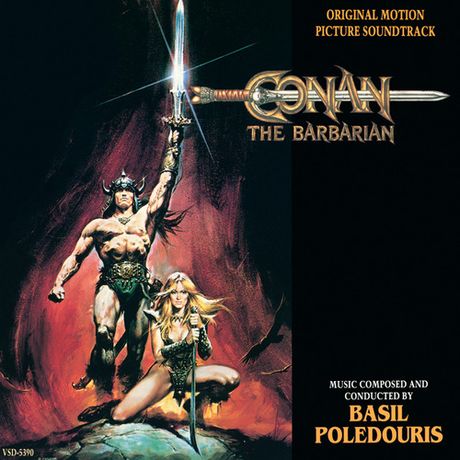 Seznam skladeb
Název/Skladatel
Hrají
Čas
1
2:34
2
5:36
3
3:50
4
4:09
5
3:50
6
3:13
7
2:10
8
5:59
9
3:21
10
3:31
11
2:11
12
6:30
13
4:29
14
4:52
15
5:34
16
5:31